Now that Google has officially released all Android 7.0 Nougat firmware images for all supported Nexus devices, everyone is rushing in to create the latest Gapps packages for other devices. Google officially released the firmware images of 7.0 Nougat for a good number of phones, including the Nexus 6P, Nexus 5X, Nexus 6, Nexus Player, Nexus 9, as well as Pixel C.
There are many devices from other companies which do not have the opportunity of enjoying the 7.0 Nougat update. This happens because many OEMs are slow on building Android 7.0 updates for their devices, and some companies don't even try to update their devices to a new version at all.
Custom AOSP builds are ROMs based on Android 7.0 Nougat such as CyanogenMod 14/CM14 that deliver the latest Android experience to devices that can't enjoy any official builds due to reasons mentioned above. AOSP ROMs are based on the latest 7.0 Nougat source code, so they deliver the same Android experience as on official builds.
One thing however is that these ROMs do not have Google Apps, also known as Gapps. Gapps is a package which contains many Google Apps, hence the name. These ROMs do not have any Google Apps pre-installed, so you have to manually install them. Fortunately, the good thing is that installing Gapps is as easy as installing a custom ROM.
Thanks to OpenGapps, you can enjoy all the benefits of a Nougat ROM. OpenGapps has released the required Gapps for Android 7.0 Nougat. There are various 7.0 Nougat packages that you can choose from: Super, Stock, Full, Mini, Micro, Nano, Pico. Each package has a different number of Google Apps. Pico only installs Google Play Services, while the Super Package contains all the apps that you will ever need.
Download Android 7.0 Nougat Gapps Packages
Below, you will find all Android 7.0 Nougat Gapps packages, and a list for each package, letting you know what apps each package has.
1) Pico Package (Android 7.0 Gapps)
This package has the most basic software from Google. It has the core Google system base, Android Shared services, Google Play Store, Google Calendar Sync, Google Package Installer and Google Play Services.
2) Nano Package (Android 7.0 Gapps)
Nano Package is very similar to Pico, the only difference is that besides Google Package Installer and Google Play Services, it comes with Google Search, Face Unlock and Face Detection.
3) Micro Package (Android 7.0 Gapps)

Micro Package has a lot more applications and Google Services that you might want to use.
4) Mini Package (Android 7.0 Gapps)

5) Full Package (Android 7.0 Gapps)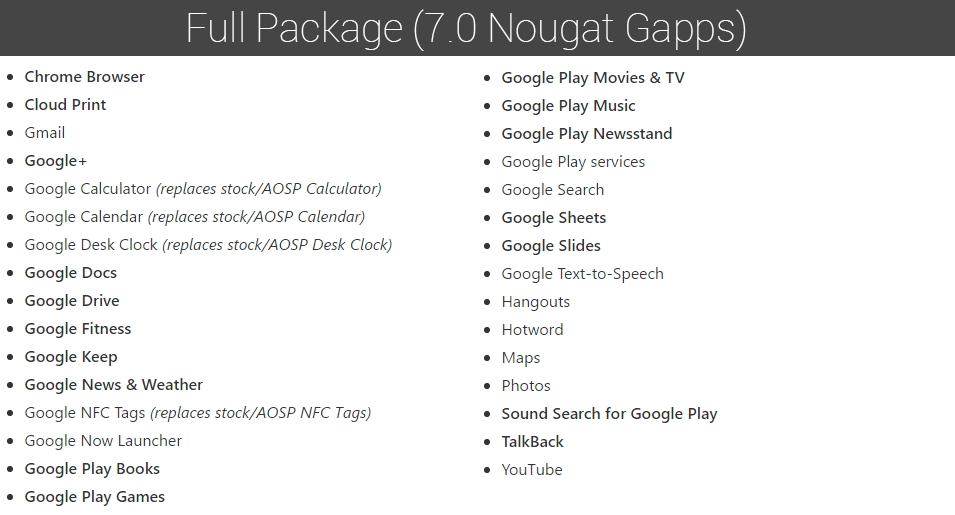 6) Stock Package (Android 7.0 Gapps)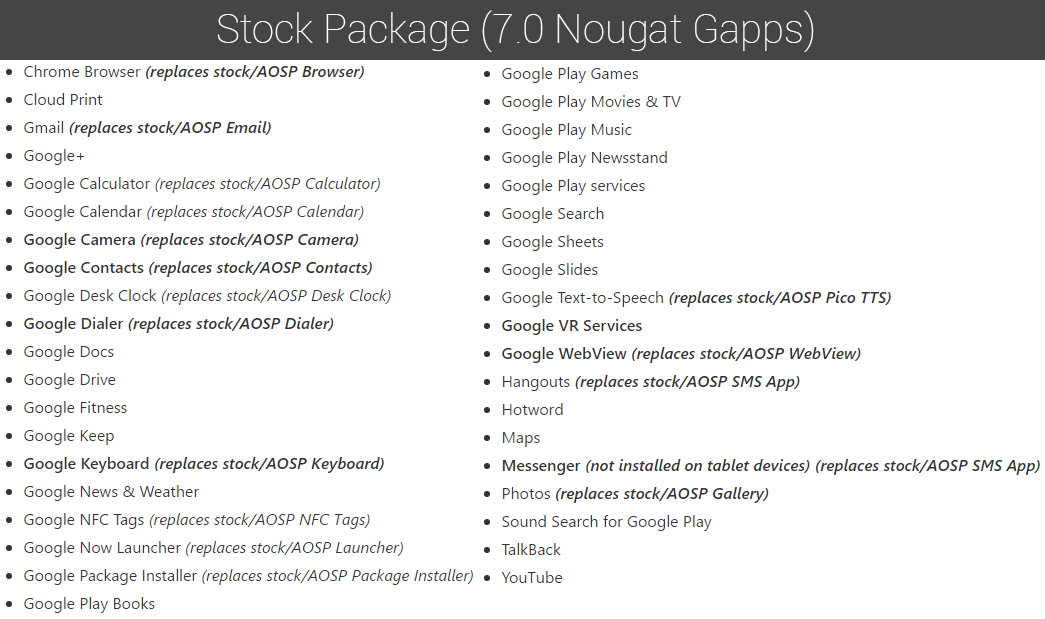 7) Super Package (Android 7.0 Gapps)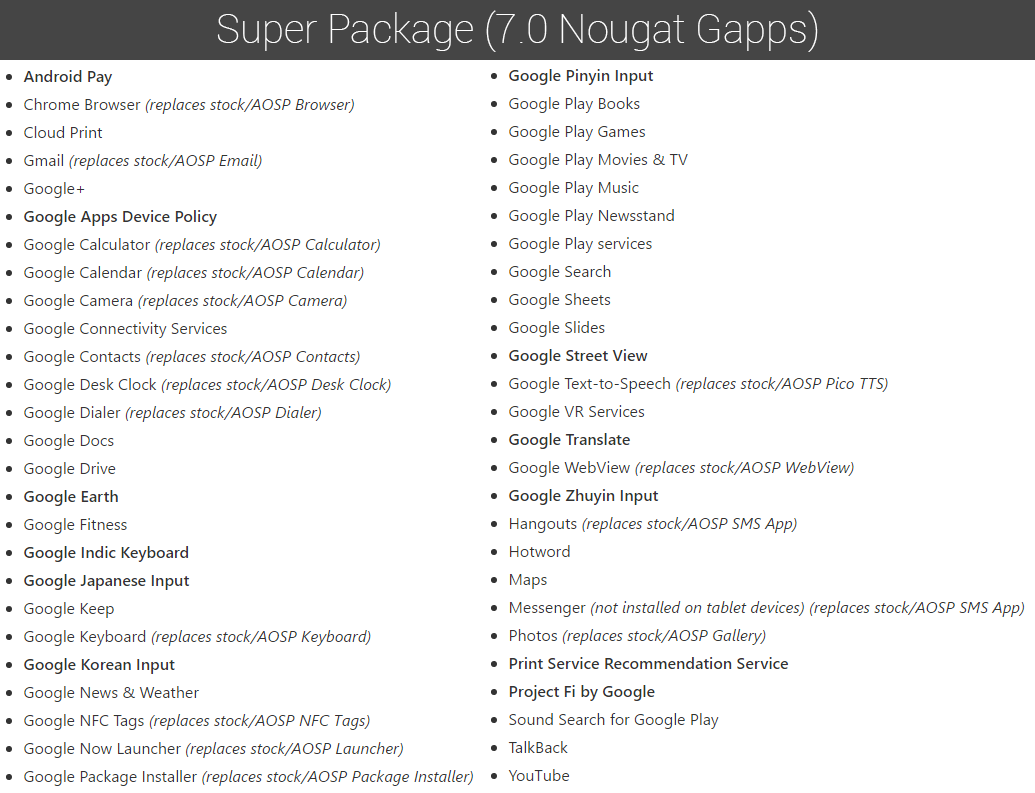 You also have AROMA Gapps, which basically lets you choose which applications you want to install and which apps you don't want on your phone. To install Nougat Gapps, you have to flash them using a custom recovery. All you need to do is to go your phone's custom recovery, flash the ROM and then flash the Gapps Package the same way you did with the ROM.