Samsung has just released the new Android 4.4.4 KitKat update for the Samsung Galaxy S4 T-Mobile SGH-M919 variant. If you are a regular reader of the site, you already know that the Verizon variant of the Samsung Galaxy S5 received the 4.4.4 update leaving all other S5 variants behind.
And before other variants get the chance to update to the new version, the Galaxy S4 T-Mobile SGH-M919 variant has received it. Yes, looks like American branded Samsung phones are receiving the latest update before international ones.
Also Read: Install Galaxy S5 Camera on Galaxy S4
This is not a bad thing because Samsung phones are popular in the USA too. The new update is around 400 MB big in size if you update through OTA. Here are the official details about the update:
Build date: Wed, 27 Aug 2014
Product Code: TMB
PDA: M919UVUFNH7
CSC: M919TMBFNH7
MODEM: M919UVUFNH7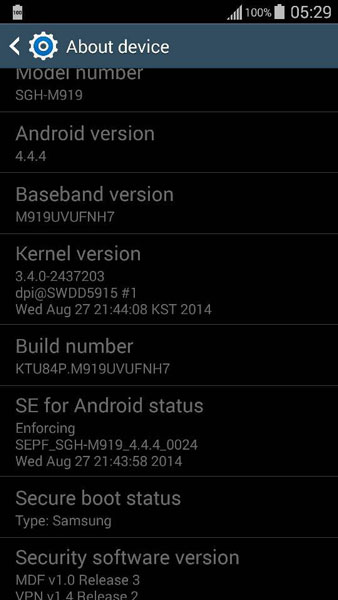 How to install
There are two ways of installing the update. The first one is through OTA. Go to Settings > About Device > Software update and check for new firmware. If your phone has received the new version, download and install it.
Also Read: Best Galaxy S5 ROMs (S5 Theme) for Galaxy S4 and Galaxy S3
If your Galaxy S4 hasn't received it, then you can download the official firmware and install it using ODIN. Download the firmware and read tutorial to install it.