Xiaomi has started rolling out the MIUI 12 update for the global variant of the Mi 10. The first Android 11 update for the Mi 10 was a limited OTA release (V12.1.2.0.RJBMIXM) in September. Now, Xiaomi is releasing a worldwide MIUI 12 update to all Mi 10 phones. The version number is  V12.2.1.0.RJBMIXM and comes with October 2020 security patches.
MIUI 12 is the latest custom firmware developed by Xiaomi based on Android 11. It is available in a number of Xiaomi phones, and now it is also available on the Mi 10. MIUI 12 comes with a new Control Center, dynamic wallpapers, a new app drawer, brand new fluid animations, navigation gestures, floating windows for multitasking capabilities, Mi Share, Focus Mode, a new File Manager, Xiaomi Health, and the list goes on and on.
Below you can download the official MIUI 12 based on Android 11 and install it on your Xiaomi Mi 10.
How To Install MIUI 12 Android 11 on Xiaomi Mi 10
The build below is available for the Xiaomi Mi 10 with code-name "umi". Do not install this on any other Xiaomi phones. Please proceed at your own risk. We shall not be held responsible.
Download MIUI 12 for Xiaomi Mi 10
You do not need a custom recovery to install MIUI 12. Since this is an official update, you can install it through official software.
How to flash MIUI 12 ROM on Xiaomi Mi 10
The update process is very simple and can be done through official software. This method is endorsed by Xiaomi on their official page, so the risks of something going wrong are nonexistent, as long as you have the correct firmware.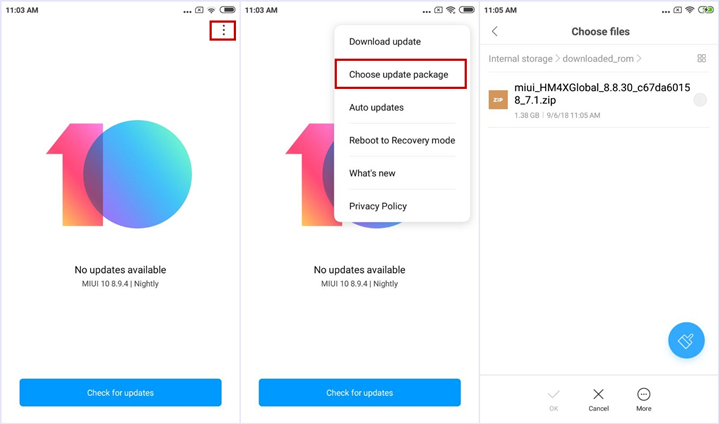 Make sure to download the latest version of the update. Furthermore, make sure the ROM you have downloaded is specifically designed for your phone's model number. If you use the wrong ROM (designed for another phone), you can brick your phone.

Transfer the ROM file to the internal storage of the phone. You need to put the update in a folder called "downloaded_rom". If you put the update in any other location, the phone might not recognize the file.

Go to Settings > About Phone and tap on System update. A screen will appear showing the current MIUI version currently installed on your phone. Do not worry if it says that no updates are available. We will manually flash the new update.
Tap the three little dots located at the top right-hand corner of the phone. Tap on Choose update package.

The phone will display a list of all available updates that it manages to find. In this case, it will show "miui_UMIGlobal_V12.2.1.0.RJBMIXM_5dcaf5cf5a_11.0.zip". Select it.
The phone will automatically flash the new update. The installation process might take a moment, so please be patient. Once the phone has been updated to MIUI 12, it will automatically restart.
Enjoy the Android 11 experience on your Xiaomi Mi 10. If you have any issues or problems with the update process, please let us know below.