Every time you install CyanogenMOD custom ROM on your Android device, you will notice the same set of system applications. The music player, launcher, calculator, file manager and more apps are the same on all CyanogenMOD builds and cannot be found on other stock Android firmwares or manufactures skins.
Now, all 13 CM apps have been published to Play Store and everyone can download them. You can install them on pure AOSP ROMs and even on bloated firmwares like Touchwiz and Sense. The app doesn't actually install CM apps, it is a menu filled with links to download them.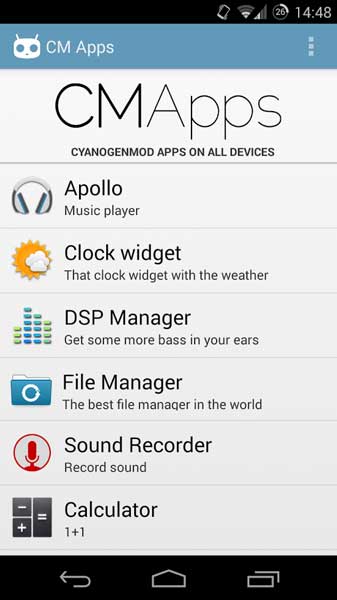 The full list of applications that CM Apps has:
-Apollo Music Player
-Camera Next
– Camera
– Messaging
– Voice+
– Clock widget
– DSP Manager
– File Manager
– Sound Recorder
-Calculator
– Torch
– Trebuchet
– Wallpapers
Download CM App here. Open the app and select the link of the application you want to install. That is it. Enjoy pure CyanogenMOD applications.