During the Android L announcement in the Google I/O event, everyone liked the new user interface layout called Material Design. It refreshes the user experience of Android as it brings fresh colors and eye-catching animations.
Everyone is expecting for Android L to make its way to their devices. The first handsets expected to receive the Android L update are the Samsung Galaxy S5, Galaxy Note 4, Moto G 2014, Moto X 2014 and of course all Nexus devices.
Also Read: Download Google Play Store v5.0 APK Full Material Design
The update is expected to roll out at the end of this year. But until then, you have to wait to officially enjoy all the Material Design goodness. But meanwhile, developers have created different apps that have Material Design and try to fit as best as possible the new look that Android L has.
One of the apps that really caught the eye of users was the Music Player. The app fully fits with the new Material Scheme. It has a new navigation bar on the top where you can access all the songs, filter them by artists, length and time of download.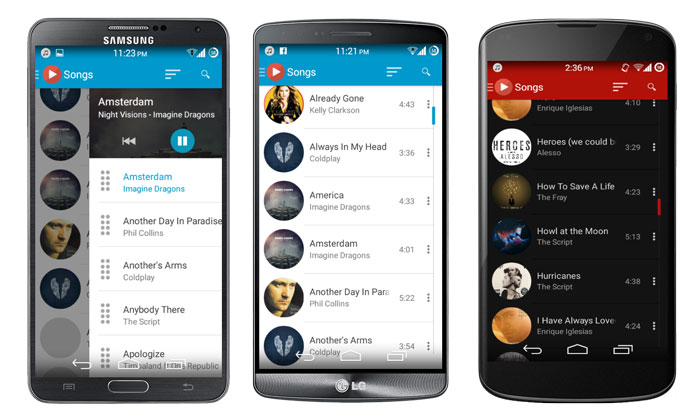 There's a search button where you can find all the songs you want without having to go through all the songs one by one. It has support for custom libraries and auto-download album art. The best element of the Music Player are the visual animations.
A developer has created an app called ACEMusic. It is very similar to the original music player of Android L and has all the features mentioned above. Here is the full list of what this app can do:
Custom libraries support.
Album artist sorting/tag support
Blacklist ability for artists, album artists, albums, songs, genres and playlists.
9 band equalizer with bass boost, virtualizer, and reverb.t.
File/folder browsing.
Crossfade with customizable duration.
Auto-download album art from the internet.
2 different base themes and 9 different color schemes.
Embedded lyrics player
A-B Repeat
Also Read: Fastest & Lightest Android Browser (Android L Material Theme)
Download ACEMusicPlayer-Beta3.apk