Galaxy devices are probably the best Android smartphones. These devices are sold more than other high-end Android flagship devices. They have excellent performance and a  lot of features that makes these devices preferred by many people.
In this article we are going to learn how to display a photo slide show on your Galaxy device lock screen. Recently, an application has been published in the Play Sore called Galaxy Photo Screen Lock. It is designed to make your lock screen exciting and unique and gives you fun and love in the same time by displaying the photo you love, your family, your kids, vacation photos and much more. With this awesome app you will see a new look of your device lock screen.
Also Read: How To Enable Galaxy S5 Grayscale Mode Without Activating Ultra Power Saving Mode
It will be much simple and it will be a lot of funny to see the people you love while swiping on the lock screen. The lock screen also shows the date, time and weekday. The lock screen is simple and professional at the same time. The app besides the slideshow also shows real-time weather and a camera shortcut at the bottom of the screen. Press it for 3 seconds to open.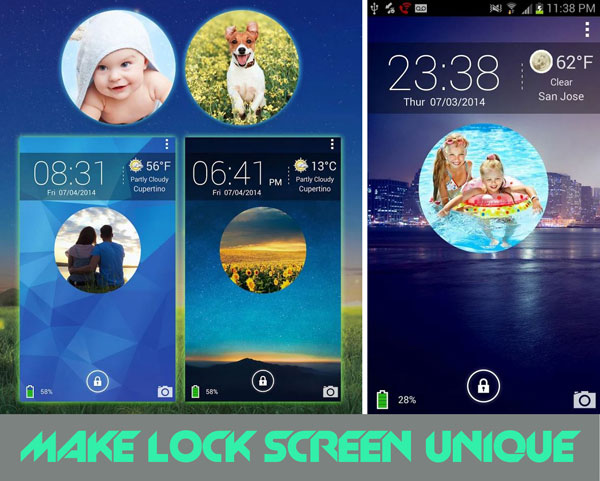 It also shows the notification bar, missing calls, messages and battery percentage. In the lock screen screen you can add your personal photos or can use built-in backgrounds to make your screen look cool. If weather is not automatically displayed, restart your phone.
Also Read: How To Check For Fake Samsung Galaxy S5
The app is tested on the Samsung Galaxy S3, Galaxy S4 and Galaxy S5. It may even work on other devices, so take a look and try Galaxy Phot Screen Lock.
Download the slideshow app here.