How to disable the thermal throttling feature on the LG G3 to improve the performance and make it faster when playing intensive games. Smartphones have become faster and faster with each release of new flagships.
A few years ago, fastest phones had a single core processor clocked at around 500 MHz and only 512 MB of RAM. With the progress of technology, phones now have quad and octa core processors clocked at 2.5 GHz and 3 GB RAM. As you can see, the difference is huge.
Also Read: Download LG G3 V10l-IND-XX Update (Lag Fix & Improved Battery Life)
Even though these devices were slow, they had a huge advantage. Because processors were slow and clocked at a low frequency, they would never become hot.
But on flagship phones like the LG G3, overheating is a common problem. Whenever the user starts playing an intensive game for long periods of time, the phone will overheat because the processor keeps running on max frequency. The chipset produces a lot of heat which will make the LG G3 hot.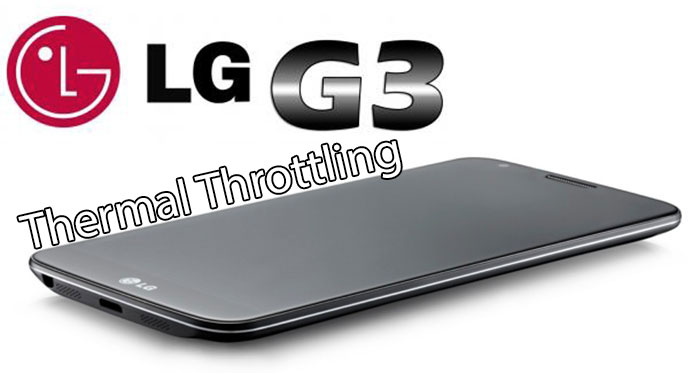 If this would happen a lot, many LG G3 devices would gradually die because heat damages internal components. LG has come up with a fix which is called "Thermal Throttling".
Thermal throttling is a software limitation which keeps track of the phone's temperature. If the temperature goes above 60° C, the processor frequency will get lower in order to prevent overheating.
This is a neat feature because it prevents the LG G3 from getting too hot and actually getting damaged. A big downside of this is that when thermal throttling kicks in, the performance degrades and the phone starts to lag.
Lag occurs because the processor doesn't run on maximum frequency and it is unable to keep things smooth and lag free. If you are tired of thermal throttling on your LG G3, then follow the guide below to learn how to disable it and fix the lag issue.
By default, the frequency will lower if the temperature reaches 60 degrees C. The good thing is that it is a software limitation and the temperature limit can actually be increased.
There is a mod created specifically for the LG G3 which increases the temperature limit of thermal throttling from 60° C to 75° C or 75° C. The frequency will lower when the phone temperature goes to 75° C. This will make the performance noticeably better and will fix the lag issues.
Download Thermal Throttling LG G3 fix: thermalmod70-v3.zip for 70° C and thermalmod75-v3.zip for 75° C limit.
Turn your LG G3 off and boot into Recovery.
Install the zip file.
Wipe cache and dalvik cache.
Reboot your phone.
Also Read: How To Improve LG G3 Screen Colors Contrast Quality
Please note that by installing this mod, there is a high chance that your LG G3 will overheat. Please use it with caution.