You can buy your HTC One M8 for Windows from the Amazon store for $49.99 with a two-year contract and $599.99 without a carrier contract. The HTC One M8 with Windows 8.1 OS got announced a few days ago at a New York event.
The phone is exactly the same as the HTC One M8 with Android. The only difference, as the name suggests, is the operating system. The new variant runs on latest Windows Phone 8.1 version with Cortana virtual assistant. One week after the official announcement, the device has become available for users to buy on Amazon.
Also Read: HTC One M8 with Windows 8.1 & Cortana Review vs. Android HTC One M8
You can buy the phone for $49.99 with a two-year contract or you can buy for $600 without a contract. In both cases, the device will have the Verizon branding on the bottom because the phone is Verizon exclusive for now. Rumors suggest that the phone will be also coming to T-Mobile and Sprint very soon.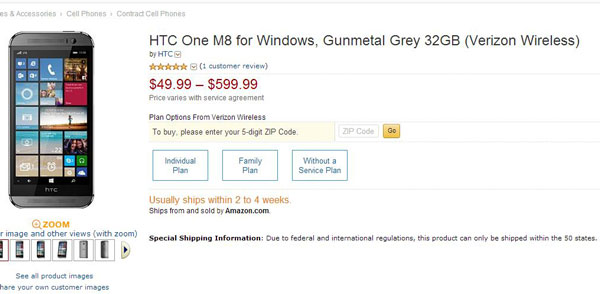 Official specifications of HTC One M8 for Windows include 5″ Full HD screen, 2 GB RAM, 2600 mAh battery, 4 MP dual camera UltraPixel sensor and 5 MP front-facing camera. One interesting thing about the phone is that it comes with Cortana virtual assistant which intends to beat Google Now and Siri.
Also Read: Ice Bucket Challenge: Galaxy S5 vs. HTC One M8 vs. Lumia 930
If you aren't with Verizon, it is better to wait because the contract-free HTC One M8 will have the Verizon logo. Even though you buy it without a contract. But T-Mobile and Sprint variants will be launched very soon, so the wait will not last for long.