Task Mangers or as they are called else, App Switchers, are one of the most important parts of Android's software because they make possible to switch from one app to another in an instant.
Every Android smartphone comes with an inbuilt task manager. Some mangers are good but some other ones just aren't good, barely work and have only one or two functions.
One of the best app switchers is the one that Samsung offers in the Touchwiz framework. It has plenty of features that other frameworks don't have.
Aside from switching to different apps, you can also view how much memory is left and how much RAM is being used.  Google stock manager can only switch to different apps and clear them all.
However, if you aren't happy with either of these managers, you can install and try third-party applications that have a lot more features than stock app switchers. Here are three of the best and most popular ones.
1. Switchr – App switcher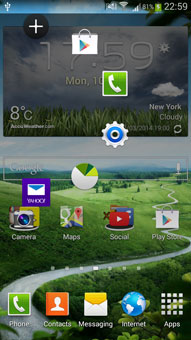 Switchr is one pretty good application. Once you open it you are greeted with a message where you have the ability to choose from three styles: Flow, were recent application icons pop up on the entire display. Slide, where a vertical bar appears on the left and the recent applications are positioned in a vertical order. Arc, where all icons appear on the top left side of the screen in the shape of a half circle.
Once you select the desired style, you have a full page with different options to choose from.
You can make the app to automatically start on boot, setup edge triggers and enable the visual indicator which will show a visible handle on the trigger. You can also blacklist different apps which will not appear on Switchr and if you want, enable vibration on trigger.
A cool feature of Switchr is that you can render the app by using the device's GPU. This will drastically improve the performance of the app.
2. Fancy Switcher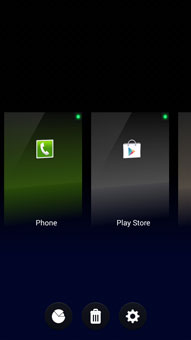 Fancy Switcher looks almost the same the as stock Android task manager, though it has a lot more features. It can be customized quite a lot. You can choose from two styles: Classic and Coverflow, choose your own icon pack, select the background color (You can make it transparent if you want) and choose the transition effect.
The behavior of the app can be changed too. You can select the scrolling top speed and how many applications are showed as recent. When you go to Fancy's task manager and swipe down to remove an app, instead of the icon disappearing it shows a "Killed" sign inside the thumbnail which looks pretty cool.
3. Loopr
Loopr is my favorite. It is the same as Switchr but has a little bit more of features. You can customize Arc size, icons size and icons padding. If you think Arc is too big or too small, simply resize it. You can show recent apps info such as name and version, set a trigger delay and kill all apps button. However, this requires root.
You can select the trigger area where the app is activated, the sensitivity, delay and haptic feedback. Sometimes, these types of apps can be activated by accident when typing that's why this app gives you the chance to pause it when the keyboard is activated.
These are some of the best task managers out there, There are many more but these three are the fastest and spend very little battery life based on my tests.