Best cases and covers you can buy for your Samsung Galaxy Note 4 to protect it from scratches and damages. The first thing you should always do when you get a new smartphone is to buy a good case for it. If you like your smartphone, getting a case is a must.
Android phones are becoming bigger and bigger everyday with huge 5″ displays and especially the Galaxy Note which has a 5.7″ screen. If you accidentally drop your Samsung Galaxy Note 4 on the ground and it lands on its face, say goodbye to the screen. It will shatter into a million pieces.
Also Read: How To Back Up & Restore Samsung Galaxy Note 4 To PC
No matter how strong a display is, it will shatter when the phone gets dropped. Not only the display but a case also prevents other parts of the phone from getting damaged. If you drop your Samsung Galaxy Note 4 and it lands on its corner, the impact will leave an ugly scratch or dent and it will not look good, especially on a metal frame. If you are scared that you are going to drop your phone and want to protect it, here are the best cases and covers for the Samsung Galaxy Note 4.
Spigen Neo Hybrid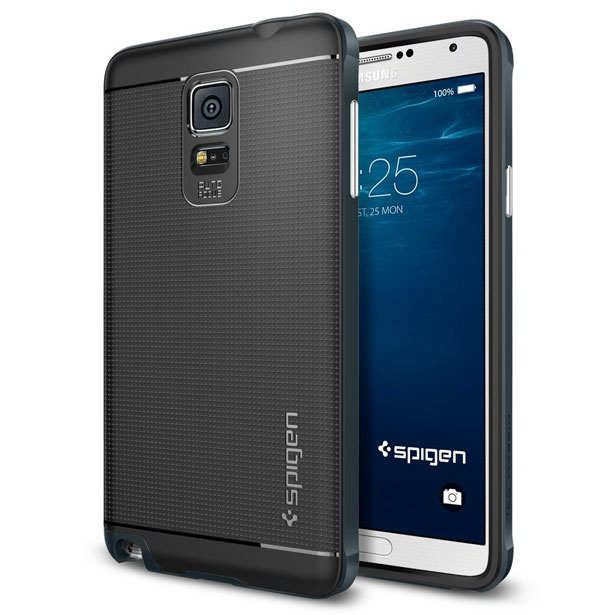 The Neo Hybrid is the most popular case variant of Spigen. It is made out of two parts with different materials. The first piece is a strong polycarbonate frame and the second piece is a shock absorption TPU case. Neo Hybrid does a great job at preventing scratches and offers great drop protection.
It is slim and form fitted to show the perfect shape of the Samsung Galaxy Note 4. The power and volume control buttons are made out of shiny polycarbonate for a stylish design. Spigen Neo Hybrid is the ideal case for those who want a stylish device with scratch and drop protection.
Buy Spigen Neo Hybrid case here
i-Blason Halo Series Hybrid Clear Case
A case doesn't always have to be dark which hides the beautiful design of the phone. The Galaxy Note 4 has a new steel frame and leather-like back which is an interesting combination. It wouldn't be a good idea to hide it. i-Blason is a white transparent case which perfectly shows the Note 4 design.
Also Read: How To Activate & Use Galaxy Note 4 Multi Window Mode
It has anti-slip white TPU material on the sides and completely transparent material on the back. It has a rating of 3H which means it is very durable against scratches. Front edges are raised to protect the screen from accidental drops.
Spigen Slim Armor
If you don't really care about having a super slim device, then you can check Slim Armor out. It offers huge protection to the phone without adding a lot of bulk. It is made out of two layers, one TPU and one polycarbonate for best protection. It has advanced shock absorption technology, Air Cushion corners for drop protection and of course, a built-in kick stand to watch videos without holding the phone.