LG G2 users have been enjoying official Android 5.0 Lollipop firmware for a while now, even though not officially. LG has released the official Lollipop firmware for the G3 but there has been no news for the LG G2. Developers have taken care of this problem by creating custom ROMs.
You have a variety of ROM to choose from. If you like the LG skin and user interface, you can install CloudyG2 to enjoy the all new LG Lollipop experience. If you like simplicity, you can install BlissPop ROM based on CyanogenMod 12 to enjoy stock Android Lollipop experience.
If you are running on a LG Lollipop ROM, chances are that the firmware has preloaded settings that you can mess around with to customize the phone and make it exactly like you want. But many options are missing like LGHome Mod, custom clock widgets, Task Manager and stock Lollipop navigation bar.
You cannot do any of these things on a Lollipop ROM. To do, you have to install mods. Fortunately, you don't have to look for the best mods for your Lollipop ROM. Member "RocketSauce83" from the forums has already done so and has listed some of the best and most interesting mods.
The mod pack is called Lollimods. Even though it is a pack, you can choose which of the mods to install. You can select all the mods you like, download and then flash them through recovery. Lets take a look at some of the best Lollipop ROM mods for the LG G2.
LG Home Mod
This mod includes all home screen notifications, LG Material icons, LG G3 and G Flex 2 official home screen and lockscreen wallpapers.
Download: LGHome Mod
LG Task Manager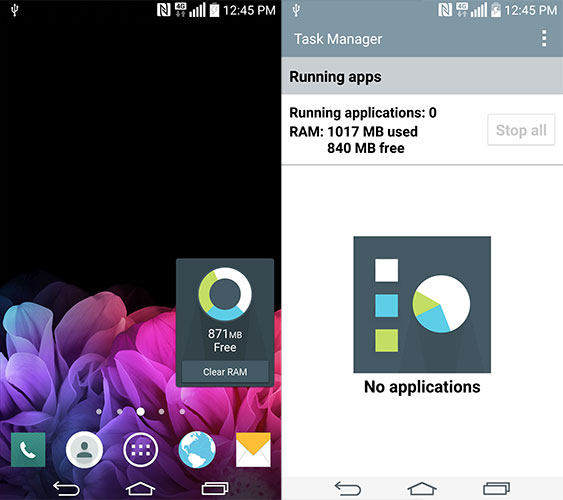 The task manager is a great way to check which apps are running in the background, draining battery and using CPU power. You get a list of all running apps, used and free RAM. If none of the apps are needed, there is a "Stop All" button.
Download: Task Manager
LG Clock Widgets
What is a better way of making the phone look better than using colorful analog and digital clock faces? This mod contains the LG G3 analog clock as well as 7 additional clock faces.
Download: Clock Widgets
Lollipop Navigation Bar (Soft Keys)
There is a bad thing when it comes to OEM updates. Even though they provide the latest updates, most of the time the software experience is not the same as stock Android. One good example is the navigation bar. Soft keys are different on stock LG ROMs compared to Vanilla Lollipop. You can bring them back using this mod.
Download: Android L Navigation Bar
G Flex 2 Boot Animation
We all agree that the boot animation can become quite boring, especially if you reboot your phone a lot. You can now switch  the default boot animation with the one that comes with the LG G Flex 2.
Download: Boot Animation
These were some of the best mods for LG G2 running on stock Lollipop firmware. What is your preferred mod?