Smartphones have evolved a lot. No one would have ever though that computers could transform into small devices, able of making phone calls, browse the internet, take pictures and all the good things that a computer can do.
Basically, smartphones have advanced so much they are slowly replacing computers and laptops for basic and even advanced tasks. You no longer need a computer to browse the web, watch videos or write documents.
Also Read: Install Google Calendar v5.0 APK Material Design
But one section where smartphones fall behind is the battery life. Battery life on smartphones hasn't improved a lot, comparing to huge advancement of processors and displays.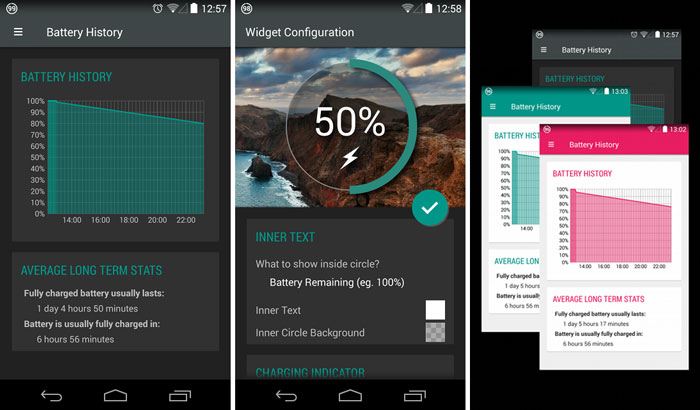 A flagship smartphone can barely last an entire day on normal usage. Users like to play a lot of games, watch videos, browse the web and increase screen brightness to the maximum.
But if users know how to properly use their devices, the battery life can be noticeably improved. One of the best applications for this job is Battery Widget Reborn 2015. It is an app which gives detailed information about battery, the temperature,  information about remaining juice and even features like Night Mode.
Night Mode improves the battery life by turning off all annoying calls, WiFi, APN and background data. If you have used this app before, you will be glad to hear that it has received a new update which brings Material Design.
Also Read: Download Google Maps v9.0 APK With Material Design
The new update makes the app a lot better, as expected with Material Design graphic elements. The user interface looks better to the eye and is a huge improvement over Holo design. Download Battery Widget Reborn 2015 with Material Design here.