Android L, the latest Android version will be probably named Lemon Meringue Pie. At least that's what the Wi-Fi certification of the upcoming HTC Nexus tablet says. Even though Android L has been officially released 2 months ago, Google didn't say any official name about it. The tech giant simply called it Android L.
It is tradition for Google that every Android version should be named after a dessert. Starting with the first version of Android, every update has had a dessert name. Android 2.3 Gingerbread, 4.0 Ice Cream Sandwich, 4.3 Jelly Bean, 4.4 KitKat and even earlier versions like Cupcake and Donut.
Also Read: How To Fix and Make Dropbox Work on Android L
Android 4.4 was expected to be named Key Lime Pie but Google changed it to KitKat. But looks like Google will not leave the pie out of Android. A Wi-Fi certificate of HTC Nexus tablet suggests that Android L will be named LMP which stands for Lemon Meringue Pie.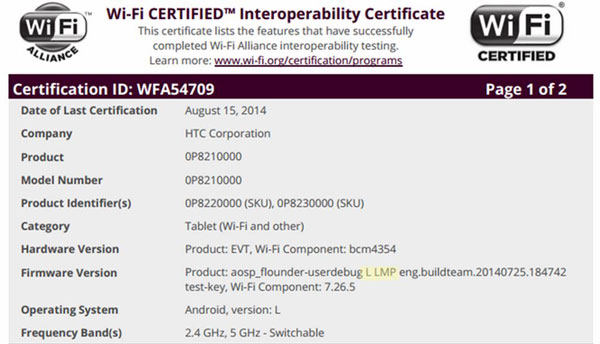 But since Google is not going to release Android L any time soon, Lemon Meringue Pie might be simply a temporary name. Google has always signed contracts with popular candy and dessert companies where the latest deal was with KitKat.
Also Read: Android L Bug List (Problems & Issues)
But until the official release of Android L on fall, the name might change to another one. Some other popular candidates are Lollipop and Lemonheads but for now, it is looks like Google will go with Lemon Meringue Pie.