In this article we are going to learn how to download and install Android L System theme mod and applications on the Nexus 5. Android L has been released more than a month ago by Google during Google I/O and it will take a few more months until Nexus devices officially receive it.
But the Nexus 5 and Nexus 7 have already received the official Developer Preview images and those users can already enjoy Android L new features and options. Nexus 4 on the other hand, even though Google didn't release a Developer Preview image , is enjoying the ported image of Android L and until now it is working fine. But there a lot of bugs that should be there since it is a Developer Preview.
Also Read: How To Install Android L on Nexus 4
For all those people who don't want to flash the Android L Developer Preview just to get the new user interface and Android L apps, you can download and install Android L mod for Nexus 4. This mod installs Android L theme, Android L soft keys and Android L apps on your Nexus 4.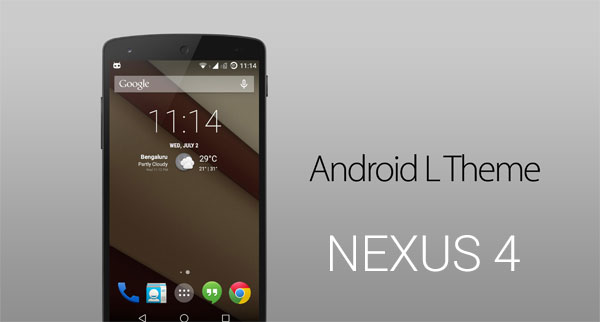 If you are afraid of flashing the buggy Developer Preview port on your Nexus 4, this mod is the best choice at the moment.  The list below shows all Android L apps and features this mod installs on your Nexus 4.
Android L Boot Animation
Font
Soft keys
Theme
 Apps
Also Read: Google Android L: Top 5 Features
This mod also installs a custom kernel which will make your phone a lot faster, more responsive and will increase the battery life. The mod includes latest GPU drivers for an enhanced gaming experience. Download Android L System theme and apps for Nexus 4 here.