A few videos have been released on the internet showing the Samsung Galaxy S5 running on an almost full stable Android 5.0 Lollipop Touchwiz firmware. First two videos noted that the firmware was in Beta phase and many things weren't working.
The third video showed a much more stable firmware and was noted that it was close to being released for all Galaxy S5 users. The release date of 5.0 Lollipop update for the Galaxy S5 is expected to be at the end of 2014 or early 2015.
Also Read: Galaxy Note 4 Firmware & Theme For Galaxy S5 (Note 4 Transformation Pack)
Meanwhile, users either have to wait for the official release from Samsung or try Lollipop in an unofficial way. The first thing you can do is to install CyanogenMod 12 ROM on your Galaxy S5. It is based on AOSP stock Lollipop so you can enjoy full Material Design interface.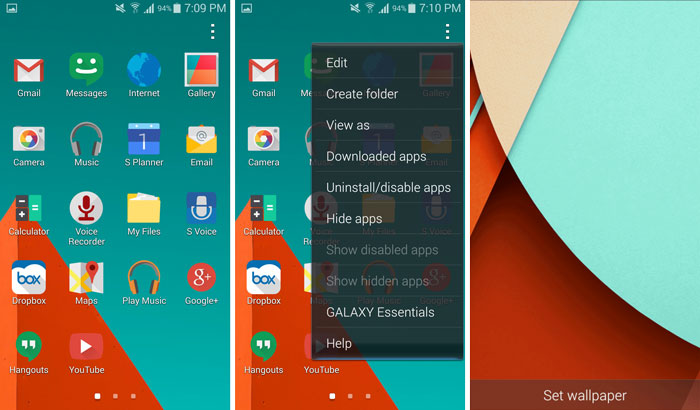 The CM12 ROM is a great way of testing latest version of Android which is based on stock Android. This means that you don't get to enjoy Touchwiz features and applications.
For this reason, a theme has been created which aims to make your Galaxy S5 with 4.4.2 KitKat look like 5.0 Lollipop Material Design. It has Lollipop icons and all the good stuff.
Download 5.0 Lollipop theme for Samsung Galaxy SS with 4.4.2 KitKat here
Your Samsung Galaxy S5 must be rooted (tutorial)
Install custom Recovery.
Boot into Recovery (Power + Volume  Up + Home)
Inside Recovery, go to "Install Zip file from SD Card" and choose Galaxy S5 Lollipop theme.
Click OK and reboot your phone.
Also Read: Install Android 5.0 Lollipop Theme for Samsung Galaxy S3
Before installing the theme, it is recommended to make a full backup in case you don't like the theme or you want to go back to stock design.