The AirDroid team has just updated the app to version 3.0.3 which adds a long list of new features and also Android 5.0 Lollipop support for AirMirror. Having an Android phone is a great thing. Not only you can customize it but you can also control it from your computer.
Users have taken a huge advantage from Android, being open source. We have seen not only smartphones but even other technological objects like cars and refrigerators running on Android. Also, developers have been able to run fully stable and working Android on Windows.
Also Read: How To Change Default Launcher & Install Third-Party Launchers on Android 5.0 Lollipop
This way, developers can test their apps using an Android virtual simulator. Among all these features, you can also control your phone from your Windows or MAC computer.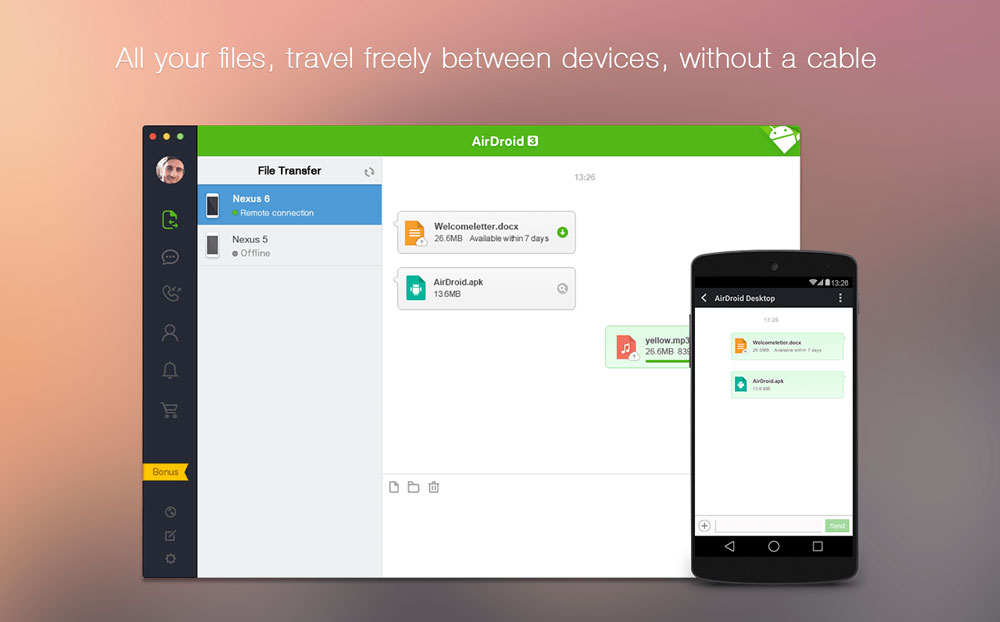 There are a lot of apps that give you the ability to control your phone from your computer but AirDroid is the best one hands down. It has been available for many years and it continues to improve with every update that developers release.
Recently, AirDroid has been updated to version 3.0.3 which not only introduces new features but also adds support for Android 5.0 Lollipop.
AirDroid is full of features. You can transfer files from your phone to your PC, mirror phone notifications of all apps to allowed computers, transfer photos, take screenshots of the phone's screen, import APK files, use the camera app directly from the computer and share the same clipboard between the phone and the PC.
The update which pushes the version to 3.0.3 brings stability improvements. There were a few users previously complaining about the fact that they could not log in or the app kept logging them out. There are three new added languages including French, German and Italian. The developer promises that more languages will be added soon.
Also Read: How To Make YouTube Faster & Load Videos Quicker With No Lag (Enable ExoPlayer)
The notification system has been improved too. All the notifications that you check and read on your computer will be removed from the phone's notification bar. One of the most important features, AirMirror now works without any problems on Lollipop.
Download AirDroid 3.0.3 from the Play Store: link